Considerations for Buying Designer Diamond Wedding Rings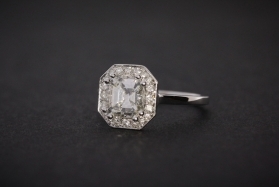 When you're ready to commit to someone for the rest of your life, you will want to select the best ring you can get to give her on your wedding day. However, the most expensive ring may not be the best one to buy. There are several considerations for finding the perfect ring for your bride.
Ring Settings
When you are looking at wedding rings, you may see rings with diamonds already mounted in the setting, but they do not come that way. The setting and the diamond are sold separately. For designer diamond wedding rings, you have the choice of several precious metals for the setting, including:
Yellow Gold

White Gold

Platinum
Although there are less expensive metals used to make rings, since you are buying a diamond, you want a setting that will do the gemstone justice. When considering the setting, think about the other jewelry your fiancée wears and select the same type of metal. If she wears yellow gold necklaces, then her preference is probably for yellow gold.
Designer Rings
Another option to consider is ordering a custom made setting, if you don't find one that you think she will like. While most women might like the standard settings you would find in a store, someone who is creative might prefer designer diamond wedding rings. You can have a setting made specifically to suit her style and using the type of precious metal she would prefer.
When ordering designer diamond wedding rings, have the designer show you several sketches so you can select one that suits her style. You don't want to spend thousands on a ring, only to be dissatisfied with the result when it is finished. In addition, order it several months in advance so it is delivered in time for your wedding day.