Decorating With Satin Fabric
On January 5, 2016
In Shopping
No Comments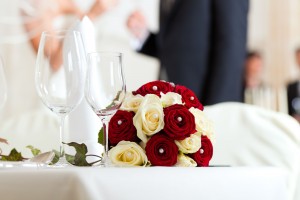 When it comes to elegant table linens and design options, it is hard to imagine a better choice than satin fabric for a touch of shimmer and a very traditional yet also a modern look.
Caring for Satin
It is important to carefully select the right type of satin. Depending on the manufacturer and the type of satin used in the linens you may be buying a very versatile and easy to care for item or one that needs a lot more specialized care.
For many wedding dresses, the bride herself will be dressed in satin, but this is typically a silk satin that will require hand washing and very careful laundering including not being twisted or wrung to dry and also not being placed in the dryer.
When it comes to table linens, choosing 100% polyester satin is always the best option. These tablecloths, napkins runners and even chair sashes and chair covers can be simply tossed into the washer and drier and laundered like any other table linens. This makes it much more practical and also extends the life of these items, allowing them to be used over and over again without any loss of quality or beauty.
Color Options
One of the first things that anyone considering satin fabric for their table linens will notice is that the color range is really amazing. Top sellers will offer a wide range of different colors from deep, vibrant, and rich jewel tones to softer pastels and neutral colors.
A great look for using satin napkins, tablecloths, chair covers, and sashes is to choose a neutral color for the large items like the tablecloth and the chair covers, and then choose your wedding color or colors for the smaller sash and napkin. Neutral colors such as white, silver, champagne, ivory, and even black look very stunning when paired with a ruby, emerald, sapphire, lilac or even a yellow.
If you have multiple colors in your wedding, satin also makes a great fabric to mix and match colors at the table. With the similar sheen and soft look to the fabric, it looks terrific as alternating colors on a table or on different tables throughout the room.
For satin fabric napkins, you may also want to consider a bit of a more glamorous type of napkin ring or clip. This simply brings on the sheen of the fabric and creates a very elegant look without a lot of additional work.