What the Best Flower Delivery in Cape Town Companies Offer Customers
On April 15, 2015
In Gifts
No Comments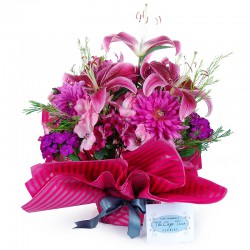 We've all heard the nightmarish story about a loving friend or family member ordering a gorgeous bouquet or floral arrangement online, only to have it arrive looking as if it suffered through a war. That is, if it arrives at all.
With so many large "big box" flower delivery in Cape Town companies crowding the web, individuals who are unfamiliar with the importance of choosing a dedicated local florist are often left disappointed with their purchase. At The Cape Town Florist, we bring a host of benefits and the other larger floral companies simply can't compete.
Fresh Flower Guarantee
We started competing in the floral industry over a decade ago. Since that time, we have dedicated ourselves to using only the freshest flowers available for each individual order. Our company orders flowers and greenery directly from the growers, which means that you get the freshest flowers every time and at any time throughout the year.
Great Customer Service
We understand that people may have a lot of questions about the bouquets and arrangements shown on the website. From the type of flowers and greenery used, to customisation and options, we at Cape Town Florist are always available to discuss your perfect arrangement. Those who are in the Cape Town area can pop on by our physical address on Voortrekker road. You can also email or call us at any time. Our promise is to get back to every customer within 24 hours, though more often than not we will return your call or email within two hours of it being placed.
Inspired Arrangements
We have a lot of fun running a flower delivery business, and a large reason for that is because it gives us a chance to be creative and innovative with our products. Our florists produce unique one of a kind bouquets to the delight of customers and themselves. We enjoy playing with colours, sizes and textures. If you'd like to have a custom bouquet made up to your specifications, let us know and we'll build your ideal bouquet or arrangement together.
Fast Delivery
No more sitting around waiting endlessly for an international flower delivery company's product to arrive at your door. Being a local company, we are able to offer our customers some of the quickest order turnaround times in Cape Town. Every week day, if a customer places his or her order before noon, we promise to deliver the arrangement or gourmet hamper exactly where they want it to go. This ensures that you not only get your flowers delivered on time, but that you also have the freshet flowers possible ready to give to a loved one or to simply enjoy yourself.